[slide type="image" link="https://my.matterport.com/show/?m=iMf8F78ToHm" linktarget="_self" lightbox="yes"]http://tour3dnation.com/wp-content/uploads/2016/11/Andell_Lobby_Fireplace-300×169.jpg[/slide][slide type="image" link="https://my.matterport.com/show/?m=sUs8AZKQRcM" linktarget="_self" lightbox="yes"]http://tour3dnation.com/wp-content/uploads/2016/11/07.22.2016_11.17.40-300×169.jpg[/slide][slide type="image" link="https://my.matterport.com/show/?m=qpbJaAAQYLQ" linktarget="_self" lightbox="yes"]http://tour3dnation.com/wp-content/uploads/2016/11/10.25.2016_10.52.30-300×169.jpg[/slide][slide type="image" link="https://my.matterport.com/show/?m=ZgHUbxiceXZ" linktarget="_self" lightbox="yes"]http://tour3dnation.com/wp-content/uploads/2016/11/01.29.2016_18.17.05-300×169.jpg[/slide]
3D Virtual Modeling takes you beyond the real world, and inside your spaces like never before. With a complete digital 3d model of your properties, we can provide a perspective that home buyers and sellers crave.
Our immersive 3D Models provide an emotional connection with the home by bringing dimension to your listings that cannot be replicated with out-of-scale, wide angle photographs or antiquated, traditional virtual tours.
All 3D Models provide full 360° movement inside the property that can be navigated at one's own pace. In addition, our 3D Models provide a dollhouse view to see the whole property at once, or switch to floor plan view for a traditional top-down perspective. All of which provide a perspective that allows the viewer to feel as if they are really there.
Click an image to the left to explore one of our 3D Virtual Models, or check out our gallery.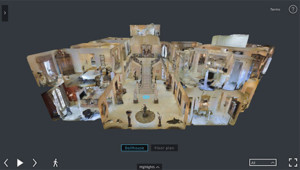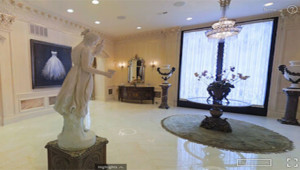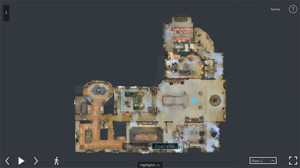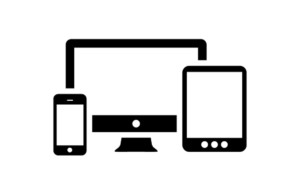 Web & Mobile Ready
3D Showcases play right in any desktop or mobile browser, without additional software or downloads.
Perfect For All Screen Sizes
No matter the size of your screen or device, your spaces will look fantastic.
Three Immersive Perspectives
Our 3D Models provide three distinctive view modes to provide a total understanding of the space.
Intuitive Navigation
Explore and move around your 3D Virtual Models with ease! Every circle on the floor is an opportunity to stop and look around. With complete 360 degree controls, you'll be walking through the property as if you were really there.
Dimensionally Accurate
All of our 3D Virtual Models are guaranteed to be dimensionally accurate within 1%!
Everything At Scale
Our 3D Virtual Models do not bend or distort spaces, but gives viewers a very scale-accurate sense of what it is actually like to stand in a room or walk down a hall.
Now Works Outside!
We are excited to announce the ability to add outdoor 360° scans to your spaces.
What are 360° Views
360° Views are 2D spherical images associated with your 3D Virtual Models, where a viewer can look up, down, and all around. Use 360° Views in areas where 3D alignment is not possible (such as in bright sunlight), for an outdoor Hero Image, or for unattached buildings (such as sheds, or pool houses).
Virtual Reality (CoreVR) Now Available!
SPECIAL: From Now Until 2017 All 3D Models Converted to CoreVR for FREE!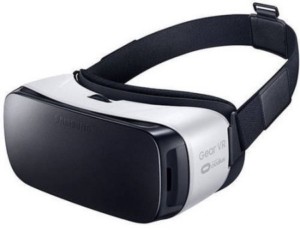 Virtual reality headsets offer the most immersive way to experience the most immersive medium.
Headsets – like the Samsung Gear VR, or Google Cardboard – have made VR experiences truly accessible to anyone.
1. Virtual Reality Headset
2. Smartphone
If you are using the Samsung Gear VR, you need a Samsung Galaxy smartphone.
If you are using Google Cardboard or SMARTvr, you need an Android smartphone.
3. Matterport VR app
Open the 3D model and select the VR icon at the bottom right of the 3D model (the icon looks like a pair of VR goggles).

Choose your VR platform (Google Cardboard or Samsung Gear VR).

If you do not have the app installed, you will be redirected to the Oculus Store or Google Play Store to install the app.

If you have the app installed, you will be prompted to select Matterport VR for Google Cardboard or Gear VR.

Insert your smartphone into the headset.

The VR Space will start downloading. Once the download is complete, select the >Play icon (▷).

You are now ready to explore the 3D model in virtual reality!
2D Schematic Floor Plans (optional add-on)
Viewers will be wowed by our immersive 3D Virtual Models, but traditional black-and-white floor plans are still a valuable marketing piece for both your online and offline marketing portfolio and as a helpful add-on for new homeowners.
In order to acquire new sellers and engage more buyers, we strongly recommend that you use Schematic Floor Plans with all of your 3D Virtual Models to complete your marketing portfolio.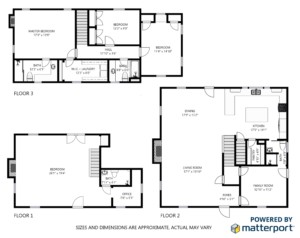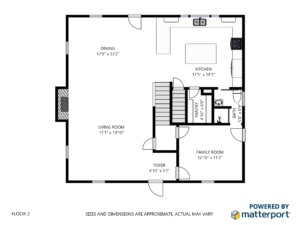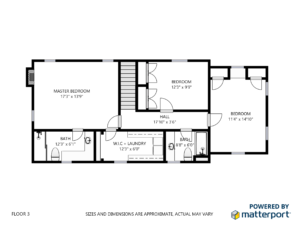 Mattertag™ Posts (optional add-on)
Mattertag™ Posts lets you tag property features right in your 3D Virtual Model by anchoring text descriptions to specific physical locations within the space. These nuggets of information spread strategically throughout will help you increase buyer engagement and the time spent viewing your listing.
Every client is unique, every space is different. Customers turn to 3D Nation for lots of reasons. But, in most cases, it distills down to a single word: Trust.
Trust in our experience.
Simply put, we understand your goals. That claim is based on decades of combined team experience in support of creating high profile marketing strategies that attract and engage an audience. Close collaboration with clients just like you that has given us valuable expertise that translates into another key area of trust.
Trust in our solutions.
Leveraging our knowledge of your goals, we're able to provide world-class services that incorporate more than just the latest technology. There's tremendous value in designing innovative marketing pieces that match your needs, function the way you operate, and incorporate the workflows you prefer.
Trust in our results.
Over time, with the right mix of products and people, you begin to build a reputation for delivering the goods. You become known by your client base. We're proud of the relationships we've built. Those relationships are founded on a genuine interest in creating win-win scenarios for both us and you.
Selecting 3D Nation as member of your team and a contributor to your success is a significant vote of confidence. We'd be pleased to apply our experience, solutions and results on your behalf and start to gain your trust.
Ready to Elevate Your Marketing with 3D?
Have a space ready to market? Unleash the power of 3D Nation's Visual Marketing team. Simply select the region of your property below to get started.
Serving the greater Low Country area, including Berkeley, Charleston, & Dorchester counties.
Serving Indianapolis, IN and surrounding areas, including Marion, Boone, Hamilton, Hancock, and Madison counties.